About Us
AccuVein is a global leader in medical imaging solutions. Vein visualization with our breakthrough device, allows health care professionals to see a map of peripheral veins on the skin's surface with the goal of improving venipuncture, the most commonly performed invasive medical procedure, and other vascular access procedures.
AccuVein's vein viewing system is the world's first handheld, non-contact vein illumination solution. It is built on AccuVein's proprietary technology as embodied in its patent portfolio which includes over a dozen patents covering a broad range of imaging and medical diagnostic technologies.
AccuVein has received a number of awards and widespread recognition from within the healthcare sector, including:

2014 Red Herring Global 100 Winner – Winner of the 2014 Red Herring Top 100 Global Award which looked at hundreds of companies around the world and honored the year's most promising private technology.

2014 Prism Award – Winner of the prestigious 2014 Prism Award for Photonics Innovation in the Life Science and Biophotonics category.
2013 and 2010 MDEA Gold Award Winner – Awarded top prize in the Medical Design Excellence Award competition twice, the only award focused exclusively on recognizing contributions and advances in medical product design, for the outstanding product design of its vein visualization device.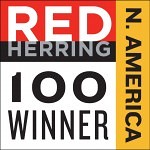 2013 Red Herring Top 100 North America – Red Herring honors the year's most promising private technology companies.
2013 Gold Edison Award Winner – One of the highest accolades a company can receive in the name of innovation and business success, the Edison Awards is a program conducted by the non-profit organization Edison Universe, which is dedicated to fostering future innovators.
2011 Frost & Sullivan New Product Innovation Award- Frost & Sullivan called the device's convenient form factor, ease of use and price "miles ahead when compared to its competitors."
Featured as a 2010 Top 10 Technology – Medical Device Developments Magazine
Named a 2009 Best New Product for Pediatricians – Contemporary Pediatrics Magazine
AccuVein's breakthrough device has also been included in Phlebotomy textbooks and has been featured on "The Doctors", and in a number of medical news segments including a special feature on WCBS in New York.

Vein illumination with AccuVein is in use at more than 3000 facilities and available for sale in over 100 countries.

For questions about the vein viewing system, or for sales inquiries you can click the button at the right to be contacted by our customer support team.

To contact the company or for media inquiries please contact us at:
AccuVein Inc.
P.O. Box 1303
Huntington, NY  11743

AccuVeins's offices can be found at:
40 Goose Hill Road
Cold Spring Harbor, NY 11724

Phone:  +1 (816) 997-9400
Fax: +1 (631) 270-3960
Email: info@accuvein.com
AccuVein Learning Center
The AccuVein Learning Center is the go to resource for training and documentation for all of AccuVein's market leading products.
Call Me Now
Interested in learning more? Enter your contact information and we'll call you.