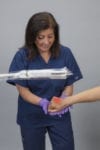 Did you know that AccuVein now offers customized Protective Covers to make it easier to keep the device and stand clean between patients? These polypropylene barriers can be used with every patient to supplement your cleaning procedures and as standard of care in isolation settings. This added layer of protection covers both the device and hands-free stand without compromising the device's crisp vein image. Learn more about AccuVein's Protective Cover here.
These cleaning instructions apply to the AccuVein handheld vein illumination devices, CC300 charging cradle, PS310 power supply. These instructions also pertain to the cleaning of the HF410, HF450, and HF470 hands-free accessories as well as the AV300.
AccuVein recommends that devices be cleaned when required and as necessary to follow institutional cleaning protocols.
Please note that when cleaning the AccuVein device or any AccuVein accessories, the wipe used, (see approved wipes below), should be firmly squeezed to remove excess cleaning fluid. This helps to prevent the pooling of liquid in crevices and depressions, which can damage the plastic.
Isopropyl Alcohol (maximum 70%)

Super Sani-Cloth (purple top)

Pre-moistened cloths with 10% bleach such as Clorox Germicidal Wipes

Use an approved cleaning agent on the plastic body of the AccuVein and on the other AccuVein accessory hard surfaces. The cleaning wipe or cloth should be damp but never wet enough to drip.Caution: Do not submerge any part of AccuVein Products in liquid.
Harmful Cleaning Agents Include the Following – DO NOT USE
CaviWipes1TM
Cavicide1TM
Bleach solutions that are greater than 10% bleach
Hydrogen Peroxide

These products have been tested and will damage the plastic parts on the equipment.
Alcohol
Eye glass cleaning cloth

The optical surfaces of the AccuVein are located on the bottom housing and include the laser exit window and the 2 photodiode lenses.
| | |
| --- | --- |
| Electrical contact cleaner | There are electrical contacts at the bottom of the AccuVein, in the charging cradle, and in the charging cup on the HF470 Wheeled Stand. When necessary, use electrical contact cleaner on the electrical contacts. |