The AccuVein digitally displays a map of the vasculature on the surface of the skin in real time, allowing clinicians to verify vein patency and avoid valves or bifurcations. It is handheld and lightweight, weighing only 9.7 ounces (275g), and easily converts to hands-free with the use of optional wheeled or fixed stands.
The medical grade design allows the device to be easily wiped clean, bagged for use in isolation, and does not require calibration as it is permanently aligned.  The easy to use AV400 can be held in any direction above the vein being viewed.  Universal and inverse modes make the AccuVein useful on a variety of patient types. With center line accuracy to the width of a human hair, the AccuVein can detect veins up to 10 mm deep.
More effective venipuncture procedures with less patient discomfort result in higher patient satisfaction, making it clear why many facilities have chosen to incorporate AccuVein into their standard of care.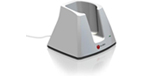 Charging Cradle Kit
Keep your AccuVein ready to use with this convenient charging cradle kit.

Universal Power Supply and Multinational Adapters
AV400 power supply cord and multinational adapters.